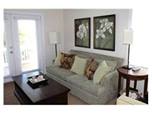 Older rental properties have a lot of character, but they can also require a lot of work. Making updates to an older property also can work in your benefit by making your unit more competitive and desirable to renters.
Although it's ideal to update as much as possible to give your property a fresh look, it's not always the most cost efficient way to go. You want to make updates that will count and maximize the value of the property. Consider the following upgrades to boost the value of your rental on the marketplace:
Update the outside appearance.
We all know that curb appeal is a big deal when it comes to closing a lease. When prospective residents walk up the property, the building creates a first impression. Therefore, sprucing up the outdoor elements is definitely worth the money. Consider adding a new roof, updating the landscaping, or adding new windows.
Add new appliances.
You might be thinking, "Why do I have to replace the stove if it still works?" Unfortunately, prospective residents don't always think that way. Not only are newer appliances more attractive looking (to some), but they can also be more cost-efficient. Certain green apartment renovations such as energy efficient appliances help residents save money on utilities.
Upgrade the fixtures.
Dated fixtures can quickly make any property look old fashioned. Update the fixtures such as the ceiling fans, lights, doorknobs on cabinets, or even the towel racks. Switch these out to a style that reflects a more modern style like stainless steel or bronze.
Give cabinets a facelift.
If the kitchen looks dated, you could either replace the cabinets with a newer style or reface the existing cabinets. Refacing cabinets is a great option when you don't want to splurge on installing brand new cabinets.
AUTHOR:SARAH GABOT