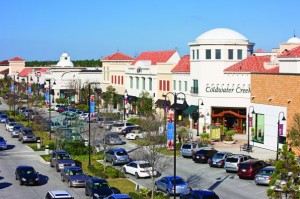 St. Johns Town Center
St. Johns Town Center is Jacksonville's newest and most talked about shopping destination with over 10 million visitors each year. Shop, dine, live and entertain in a beautifully designed lifestyle center that offers 1.1 million square feet of unique shopping and dining including many new stores you won't find anywhere else in Jacksonville.
Avenues Mall
The Avenues Mall is Jacksonville's premier family shopping destination. Treat yourself to the best, while discovering the joy of shopping. If sophistication is what you are after, look no further. The Avenues is a multi-level shopping center that offers over 1.1 million square feet of shopping
San Marco Square
San Marco Square is an artsy shopping, dining and entertainment district, just south of down town.  It is one of Jacksonville's trendiest shopping and dining destinations.  You will find restaurants and bars with courtyard type settings. It is also home to Theatre Jacksonville .
Five Points
Five Points is a quaint, historical shopping area that harbors small local businesses. Five Points is a unique place to shop or dine.
Jacksonville Landing
The Landing is home to many inviting shops and has a variety of full-service restaurants and a large indoor food court. The Landing hosts more than 300 events each year.
Our Favorite Discoveries:
1. All Wet Sports .  This is the place to head when you need a water toy! We found everything you could possibly want for all your favorite watersports. . Want to get the latest wakeboard? Need to know the kayaking spots in town?  Let All Wet Sports knowledgeable and friendly staff answer all your questions.
646-9887
8550 Beach Blvd.
Wakeboarding
Kayaking
 Boating
Surfing
Windsurfing
 Kiteboarding
Sportswear and accessories
2.We have discovered the best soda drinks ever! These are Boylan Sodas which can be found at the Farmers Market(San Jose/St. Augustine Rd) Want to place a  special order you can email Bill at wfraden1@aol.com and he will bring a case to the show just for you.
These drinks are made with 100% cane sugar-caffenine free, natural flavors and sweetened with Splenda.
Rootbeer
Original  Birch Rootbeer
Creamy Red Rootbeer
Orange Creme
Orange
Grape
Creme
Ginger Ale
 Black Cherry
Diet Black Cherry
Diet Creme
Diet Birch Rootbeer
Diet Orange Creme